The Ultimate Guide of Tea from A-Z
Fancy trying a new tea? Or becoming more of an expert on all the different options? Or finding out why tea is called tea? Our ultimate guide showcases everything to do with tea, quite literally from A to Z.
A is for Assam
Assam tea comes from the camellia sinensis assamica varietal of the tea plant. The plantations are usually at or near sea level in contrast to high-grown Darjeeling teas. They are known and appreciated for their strong, full malty taste and a dark cup. They are especially suited for breakfast teas and are often enjoyed with milk.
The connoisseur's choice of Assam tea is the Second Flush which is lighter but still malty and full bodied with honey notes.
Our Assam teas include:
B is for Bancha
Bancha is a classic every day tea in Japan – usually of autumn harvest. The leaves used are from the lower part of the plant and thus larger. As the leaves are older they contain less caffeine content than sencha. The taste is sweet, light and grassy. Bancha is easily digestible and thus very well suited as an accompaniment to food.
Our Bancha teas include:
C is for Ceylon
Ceylon teas come from Sri Lanka where tea has been cultivated for over 500 years. They are loved for their full bodied, malty flavour and citrus like aroma. It is commonly used as a base component in English Tea Blends. Ceylon high elevation estates produce teas with honey notes and light liquor and the low elevation estate teas are strong with burgundy liquor.
Our selection of Ceylon teas includes:
D is for Darjeeling
Darjeeling teas are light and they are much appreciated for their floral aroma and muscatel flavour. The tea is grown using the smaller leaf Chinese camellia sinensis plant, unlike the other Indian teas which use the native assamica cultivar.
The connoisseur's choice is either the light, grassier First Flush picked in mid-March or the stronger Second Flush harvested in May which has a more amber cup, honey aroma and stronger muscatel flavour.
Our selection of Darjeeling teas includes:
E is for Earl Grey
Earl Grey has grown in popularity since it was first named for Charles Grey, 2nd Earl Grey and British Prime Minister in the early 19th century. It is now famous worldwide as one of Britain's most iconic blends. It gets its distinctive taste from the addition of Bergamot oil to the blend. Traditionally it is made of black tea but nowadays you can also find it as a green tea blend and even as a flavoured Rooibos.
It has consistently been a best seller for The Tea House and is much loved by our customers.
Our range of Earl Grey teas include:
F is for Fruit Blends
Fancy something a bit fruity? Try one of our flavoursome whole fruit blends.
Packed with a variety of fruity ingredients these are growing in popularity.
Whole Fruit Blend infusions are made with fruits and berries and are a good alternative for when you want to enjoy a tasty drink without having to think about caffeine. Most of them are great as iced infusions or as cold brews.
Enjoy the taste of summer at any time of the year!
Our selection of Whole fruit Blends include:
G is for Green Tea
Green tea originated in China.
After harvesting, the leaves are quickly dried and either pan fired or steamed to stop oxidation. There are many varieties of green tea and the taste varies from grassy and nutty to vegetal and sweet, depending on location and whether pan firing or steaming is used. There is also a great variation in how the leaves are dried, rolled and shaped. Green tea is also popular for its antioxidant properties.
To get the best out of your green tea we recommend the water temperature is no warmer than 70-80° Celsius.
We stock a wide variety of green teas from China and Japan, including:
H is for Herbal Tea
Herbal teas are infusions made with herbs, flowers, spices, fruits and seeds. They are usually caffeine free and thus safe to drink at any time of day – even at midnight. They can be infusions of one herb or blends made from a combination of herbs or flowers.
Herbal infusions are known to have been drunk in China over 2000 years ago. They were enjoyed not only for their taste but also for the medicinal properties they contain. The custom of herbal infusions spread to Europe in the 17th Century and they have been a part of European drinking culture ever since.
We stock a large selection of herbal infusions including:
I is for Iced Tea
Iced tea is any tea or infusion that is served chilled or cold – most often with ice. It is a popular summertime beverage around the world – especially in the US and East Asia.
There are two basic ways of brewing iced tea. One is brewing extra strong tea and mixing in sweetener and fruits. Allowing it to cool before serving with ice and garnishes. The second is the now very popular cold brewing where you leave the tea or infusion to brew in the fridge and serve it the following day. The cold brew works very well, especially with black and green teas resulting in a drink with a sweeter taste than hot brewing.
Most of our teas are suitable to brew for iced tea but we especially recommend:
J is for Jasmine Tea
A classic Chinese scented tea. There are many versions but the way the tea leaves are scented is the same. The tea leaves are laid out or mixed with freshly picked blossoms. The tea leaves then absorb the scent of the flowers. When brewed the tea releases the famous beautiful scent of jasmine.
The Chinese have been scenting tea with jasmine blossoms since the 5th century. The flowers are picked late summer in the morning, whilst still closed. In the evening the blossoms open and release their scent. In the high-grade Jasmine teas, the process is repeated up to seven times before the flowers are removed. The flavour is mild, sweet and fragrant.
Jasmine tea is commonly used as a digestive at Chinese restaurants.
We stock the following Jasmine teas:
K is for Kukicha
Kukicha or Twig Tea is a Japanese speciality made from stems, stalks and twigs of the tea plant. The tea used is normally from Sencha or Tencha (used for matcha) plants and it is produced as a green or toasted version.
Green Kukicha has a fresh, grassy and sweet taste whereas the toasted version is more nutty, creamy and sweet.
Toasted Kukicha is also known as Three Year Tea because it is left to age after harvest and older plants are used.
It has a very low caffeine level due to the age of the plants.
It is popular as an accompaniment to food and it is a common part of the macrobiotic diet in Japan.
We recommend:
L is for Lapsang Souchong
Lapsang Souchong is a famous Chinese smoked black tea originating from Fujian which derives its distinctive flavour by drying the leaves over pine fires. This results in the smoky, spicy, yet smooth taste – quite unlike any other tea.
Souchong leaves are the 4th and 5th leaves of the plant which are lower grade though manufacturers do use higher grade leaves for more delicate flavours.
It is claimed that Lapsang Souchong is the first ever black tea. According to legend, it came about during the Qing Era when tea farmers hid from a marauding army during the harvest period delaying normal withering and instead hastening oxidisation of the leaves. The canny farmers remedied the situation and saved the tea from ruin by burning fires of local pine around the leaves.
We stock:
M is for Matcha
Matcha is powdered Japanese green tea made from shade grown tencha leaves. Shading allows the nutrients to concentrate in the leaves, resulting in a tea with an ideal balance between bitter catechins and sweet l-theanine. The harvested tea has to be processed fast, within 24 hours, to keep the flavour of the tender leaves. The dried leaves are then ground to powder using stone mills.
Matcha is an important part of traditional Japanese culture and is famously used in the elaborate, formal Chanyo tea ceremony.
Matcha is whisked using a bamboo whisk (Chasen) until it is foamy on top. The taste is sweet and full of umami.
It is also a popular ingredient in cakes, ice cream and even bread.
In recent years it has gained huge popularity as a health drink due to its antioxidant properties.
Enjoy Matcha and all its accessories:
N is for Nilgiri
Nilgiri tea is named after the famed Blue Mountains in Southern India. The tea plantations are at an altitude of up to 2500 meters with an average 600cm annual rainfall which helps produce this tea with its intense liquor and unique flavour.
Due to the ideal growing conditions Nilgiri teas are grown and harvested throughout the year.
Our Nilgiri Blue Mountain tea is a high-grade Broken Orange Pekoe leaf with a dark liquor and intense fruity and woody aroma. As it is a broken pekoe leaf it is fast to brew and very well suited to be drunk British Breakfast style with milk.
Whilst it brews strong it still retains a sweet flavour without any bitterness which makes it very suitable also for cold brewing in the summertime.
A true hidden gem of a tea!
O is for Oolong
Oolong translates as Black Dragon. This refers to the way the leaves are rolled during the processing. Oolong tea is semi oxidised which means it falls somewhere in between black and green tea. It mainly comes from the mountainous parts of China's Fujian province and Taiwan.
Each Oolong has its own taste based on the level of oxidation, which varies from 10% to 80%, along with how the leaves have been rolled. This explains why there is such a huge variety of Oolong available and why their tastes vary so much.
It is impossible to give a blanket description of their taste, some are very woody and nutty, others light and sweet. Oolong tea is very high in antioxidants and it is enjoyed not only for its great taste but also its health benefits.
We recommend the following Oolong teas:
P is for Pu-erh
Pu-erh tea comes from China's Yunnan province and it is a very special aged tea where Camellia Sinensis Assamica varietal is used. It has been assigned as a protected origin product which means it can only be processed in this one area of China.
After harvest the leaves are dried in giant woks before being laid out in the sun to dry before spring and aging.
Farmers sell their leaves (Maocha) to processing companies who steam the leaves and place them in containers where they are compressed by weights. The end product comes in many forms of cakes, nests and loose leaf. Compression tea started in the Ming Era to make transport of the tea easier.
In general, there are 3 types of Pu-erh: Raw, Raw Aged and Ripe:
The Raw (Sheng) type tastes more like green tea with fresh, grassy tones.
The Aged Raw Pu-erh is dark. The taste is woody, earthy with a hint of camphor (often camphor trees grow near the tree farms). Some of the cakes are aged for the longest time – some for over 30 years.
The Ripe (Shou) Pu-erh is made by leaving the leaves in cave like rooms to compost and mature in the heat and moisture. This cuts the aging process from years to months. The final product is a deep, dark brew with a less complex taste than the Aged Raw, yet with a lot of depth and a hint of mushroom sweetness.
We have three types of Pu-erh for you to enjoy:
Q is for Quality
Tea leaf quality is assessed by the tea industry by assigning different grades:
OP: Orange Pekoe – denotes a full leaf medium quality which does not contain tips.
BOP: Broken Orange Pekoe – the Orange Pekoe leaves have been crushed to ensure faster brew and a stronger taste.
FOP: Flowery Orange Pekoe – High quality leaf containing some tips.
FOP1: a higher quality Flowery Orange Pekoe leaf.
FBOP: Flowery Broken Orange Pekoe – Broken Orange Pekoe leaves with some tips.
GFOP: Golden Flowery Orange Pekoe leaves – more tippy than Flowery Orange Pekoe leaves.
TGFOP: Tippy Golden Flowery Orange Pekoe leaves – contains the most tips. The more tippy golden-brown leaves, the better!
TGFOP1: Even higher quality than Tippy Golden Flowery Orange Pekoe leaves.
FTGFOP: Finest Tippy Golden Flowery Orange Pekoe leaves.
FTGFOP1: The very Finest quality Golden Flowery Orange Pekoe tips.
PF: Pekoe Fannings – the tiniest leaves which are at the bottom when sifting, which are mainly used for teabags together with tea dust (D1) or Pekoe Dust. Just like wine and in fact many other products derived from plants, the soil and growing conditions have enormous influence on how the tea plant grows, the varietal used and the leaf produced as well as when and how the tea is harvested.
There are more tea grades but we selected the most important ones to explain.
R is for Rooibos
ROOIBOS or REDBUSH is a plant which comes from the Cederberg region of South Africa. It was used by the indigenous KhoiSan population for generations before being discovered. Since 2019 the Rooibos producers now give 1.5% of their profits back to the KhoiSan people.
Rooibos is caffeine free and contains polyphenols, flavonoids, vitamin C, minerals and other antioxidants and so it has become very popular with the health conscious.
The most common version is the oxidised, brown Rooibos which gives a bright orange liquor and has a naturally sweet, nutty flavour with a hint of honey. It can be enjoyed with or without milk.
The other type of Rooibos is unoxidised Green Rooibos. Its production process is similar to green tea and thus more complex. The taste is fresh, grassy and malty.
Rooibos is very well suited to flavouring and those versions are very popular with families as being caffeine free it is an ideal healthy beverage for the children as well!
We stock the following Rooibos:
S is for Sencha
Sencha is a green tea made using the traditional Japanese method of steaming, to stop oxidisation, as opposed to the typical Chinese method of pan-firing. Steaming helps to retain green colour and nutrient content of the leaves. 80% of tea produced in Japan is Sencha. Compared to shaded teas like Gyokuro, Sencha is allowed to grow fast in direct sunlight thus generating more vitamin C and antioxidants. It has a relatively high tannin content which gives the tea its sharpness.
Shortly after steaming, the leaves go through several rolling processes which, through softening, help to release the flavour of the tea. After this they are sorted – separating the Sencha from Kukicha (stems and stalks). The first picking (shincha) takes place in April to May depending on location.
The taste of Sencha is fresh, grassy and fragrant with a hint of seaweed as all tea farms in Japan are within 75 miles from the sea and the leaves are iodised by the ocean air.
The Tea House stocks the following Sencha:
T is for Tie Guan Yin
A legendary oolong from Anxi, China, where it has been made for over 200 years.
Tie Guan Yin – Iron Goddess of Mercy – is produced all year round but the most valued period is spring followed by autumn.
How it is produced used to be a well-kept secret involving several elements of tossing, drying, rolling and shaping. The process is time consuming and labour intensive, the traditional full baked version with its complex palate is expensive and sought after and becoming harder to find.
Nowadays there are several different production methodologies such as the more modern, more floral, lightly baked spring, Jade Tie Guan Yin which is growing in popularity.
There are two legends associated with this tea – both involving a miraculous find of the tea plant in the Quanyin (Bodhisattva of compassion) rock or cave in the area.
U is for Umami
Umami is one of the five classic tastes of food. The other four are sweet, bitter, salty and sour. Umami was identified in Japan a hundred years ago albeit awareness in the West has been slow to catch up.
Umami is Japanese for "a pleasant savoury taste" or simply "deliciousness". It is found in foods which contain protein which is essential for our survival.
Green tea and especially Japanese green teas are high in glutamate which is the cause for the umami. Theanine in tea also contributes to a umami taste.
The teas which have the most umami flavour are the spring picked teas, especially Gyokuro. The fact that Gyokuro is a shade grown tea contributes to its stronger umami taste. Late season teas which have grown in more sunlight have much less.
Other foods which have umami are hamburgers, mushrooms, soy sauce,
Seaweed, aged hard cheeses and anchovies.
To experience a great UMAMI taste in tea we recommend:
V is for Verbena
Lemon Verbena (Aloysia Citrodora), a plant of the Verbenaceae family, has been used as a herbal drink for hundreds of years, maybe thousands. It originates from South America where it was used by the indigenous population for refreshment and for medicinal purposes. In the 17th century, the Spanish and Portuguese introduced it to Europe.
The plant gives out a wonderful lemon scent when the leaves are crushed. Verbena makes a light refreshing infusion just with a few leaves, fresh or dried adding to boiling water produces a delicate yellow liquor. No sweetening is needed. Not at all astringent, it is perfect as a digestive drink and can be made iced in hot weather. It is also known for its calming and stress relieving properties.
In the kitchen, verbena can be added to poultry, fish, as well as to marinades, jams and even yoghurt.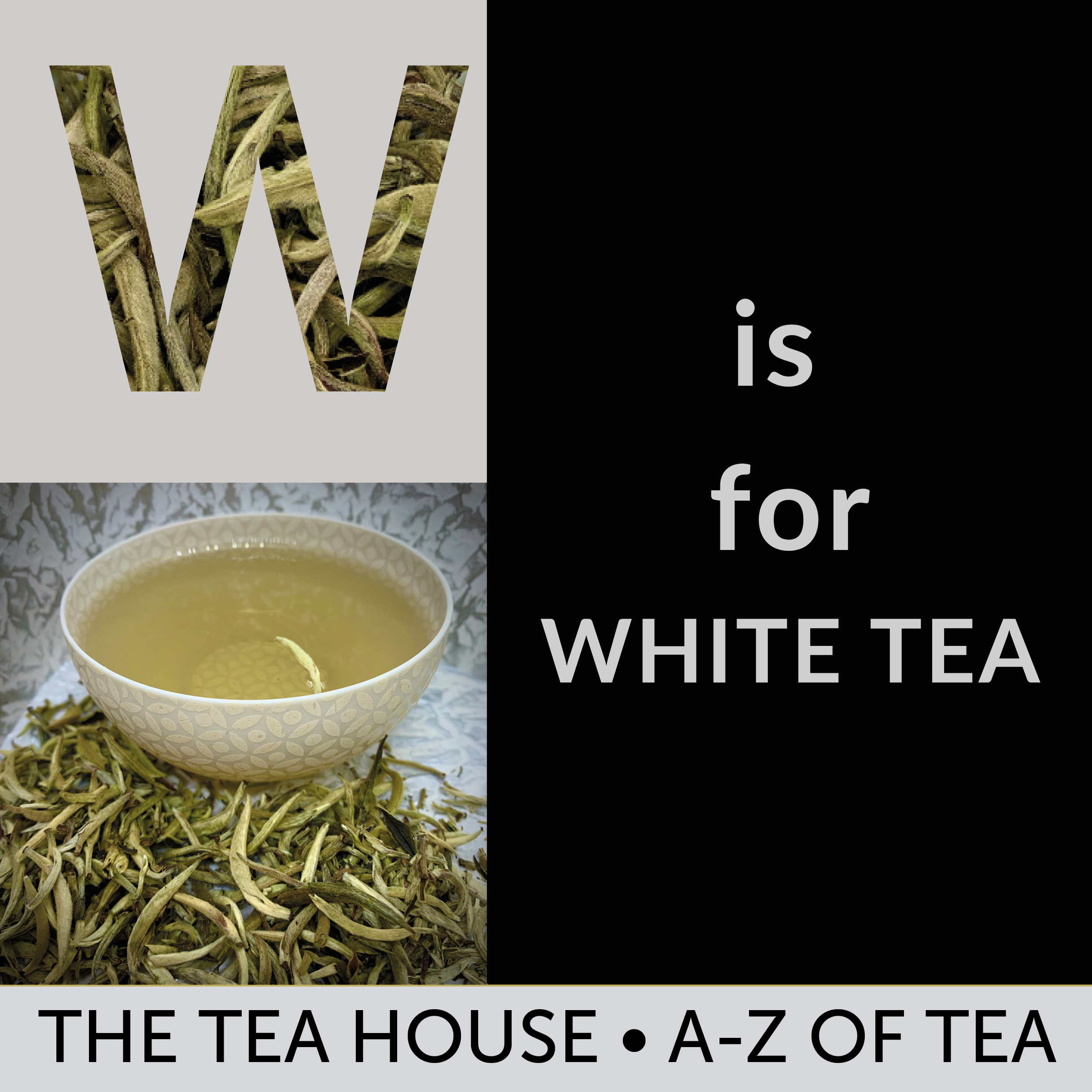 W is for White Tea
White tea is created from young, spring-picked buds. The leaves of the tea plant are left to wither and dry gently and naturally, without any heat or steam. White tea still comes mostly from Fujian in China, although it is now produced in other countries and locations.
With most types of white tea, the leaves are not treated any further, but a few high-grade versions may be lightly rolled or shaped such as in Silver Needles.
The tea is called "white" because the leaves and buds are so fresh when picked that they have a white downy appearance and their newness means sunlight has not yet turned the chlorophyll green.
The liquor is pale yellow, with a mild taste that is fresh, vegetal and slightly sweet. Great care should be taken to ensure the correct brewing temperature – not hot!
Delicious and light, white teas have higher levels of antioxidants than green or black teas. It is also said to have anti-aging benefits for the skin.
We stock the following white teas:
X is for Xiamen
We have seen throughout our A to Z of tea, the importance of the Fujian province as a premier producer of tea in China. Xiamen is the principal port of Fujian and one of China's largest.
Xiamen became the centre of the Chinese Tea Trade in the 19th century, although as early as the 17th century it was used briefly as a trading post by the East India Company. In 1842, the Treaty of Nanjing made Xiamen one of the first five ports open to British Trading in China. Being the primary port of Fujian, it became the primary point of shipping for the Chinese tea trade, exporting thousands of tons annually to the West.
At the end of the 19th century, the British began significant tea production in India which lead to the collapse of the Xiamen tea export economy at the time. However, Xiamen association with tea lives on, having given us the word 'TEA' from the local Amoy dialect word 'TAY', different to the Mandarin 'CHA'. This has resulted in the use of 'TEA' in English, 'TEE' in German 'THÉ' in French, 'TÉ' in Spanish and 'TÈ' for the Italians.
Y is for Yerba Maté
Yerba Maté (Ilex paraguariensis) is a perennial tree in the holly family and is native to South America. Drunk by the Guarani of South America for centuries. Known as the "drink of the gods", it has gained worldwide popularity as a stimulant. Its caffeine (some call it mateine) levels fall somewhere between coffee and tea.
This South American speciality is traditionally drunk in groups from a hollow gourd through a 'Bombilla' straw. With a host/brewer refilling and passing to the next person after finishing the few mouthfuls of beverage. It's a common social practice in Paraguay, Uruguay, Argentina and southern Brazil.
It is increasingly popular with athletes and celebrities as it can help with mental and physical fatigue, weight loss, depression, rheumatic pains and headaches.
Z is for Zhu Zha
Zhu Zha (Gunpowder tea) gets its English name from the way the leaves are rolled into tight pellets. The Chinese name Zhu Zha refers to pearls. It comes from Zhejiang Province and has been produced since the days of the Tang Dynasty in the 7-9th century.
The rolling of the leaves into the tight round pellets used to be done by hand but nowadays it is mostly done by machines. The rolling protects the leaves from damage and allows the tea to retain its flavour. The same process is used with some Oolong teas.
High quality gunpowder tea such as Pingshui Gunpowder has small and dark coloured pellets which have a little shine to them.
The tea should be brewed at maximum 70c and the liquor is yellow with a slightly smoky, grassy taste. A true Chinese classic.
We recommend trying:
We hope you enjoyed our journey through the world of tea from A to Z!
All our team members are enthusiastic tea drinkers with specialist knowledge, so please do get in touch if you ever need advice on what tea or accessory to try next
Our full range of teas and accessories are still being shipped worldwide and can be viewed here.